Hello,
I hope everyone had a happy and safe holiday.  I was able to get a free copy of Microsoft's Windows Server 2008 Release Candidate 1 (WS2008).  WS2008 is slated to be the next iteration of Microsoft's server platform, due for release on February 28th 2007.  Microsoft is making the release candidate freely available to the public for evaluaion, much like it did for Windows Vista.  A copy for download can be obtained from the following URL: 
   http://www.microsoft.com/windowsserver2008/audsel.mspx
Give it a try...
I am going to detail the installation of the WS2008 operating system in this post.  Future posts will cover Active Directory installation, DNS, IIS 7.0 and Certificate Services.Some of the screenshots were taken from within Parallels and others were taken from a live server through remote desktop.  My test server is an IBM ThinkCentre M51 with 1GB of RAM, 3GHz CPU, 250GB HDD, and a pathetic video card. Those specs will cover the basic operation of WS2008 and it's components
To start, just boot to the WS2008 DVD-ROM.  WS2008 image is 1.47GB in size and comes on a DVD, like Windows Vista.
   Boot loader
   WS2008 setup is just like the setup for Windows Vista.  One big difference is that WS2008 is much shorter than Windows Server 2003 setup.  After the bootloader finishes an 'Install Windows' wizard will begin.  Choose the appropriate options for language, time/currency and input locale, then click 'Next'.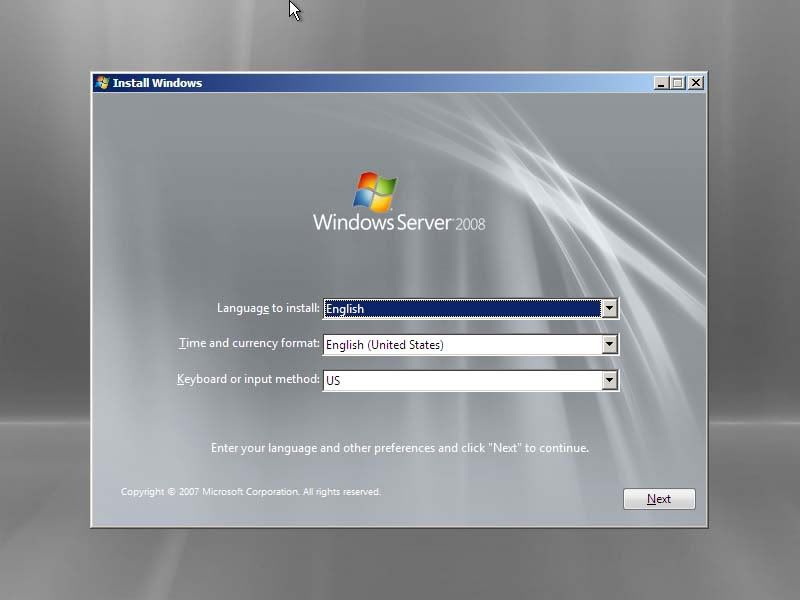 The wizard will start the install process after clicking 'Install Now'  There are also options to find out more about WS2008, and repair an existing installation of WS2008.
   Microsoft got this step right out of the way.  Believe it or not, a product key is not required here. If a product key is not entered WS2008 will run as a thirty day evaluation copy.  If you have a product key enter it here, but un check the box entitled 'Activate Windows when I am online'.  I prefer to activate after the server is up and running to desired satisfaction.
   Next, the installer will prompt asking for what type of server will be installed, 'Full Install' or 'Server Core'.  Server core is a new feature of Windows Server that only applies a very basic image of WS2008 to the hard disk.  Any and every non-essential piece of software is removed from the install process, including the GUI.  More can be found out here. We are going to do a full install this time.  I will tackle a server core install later on...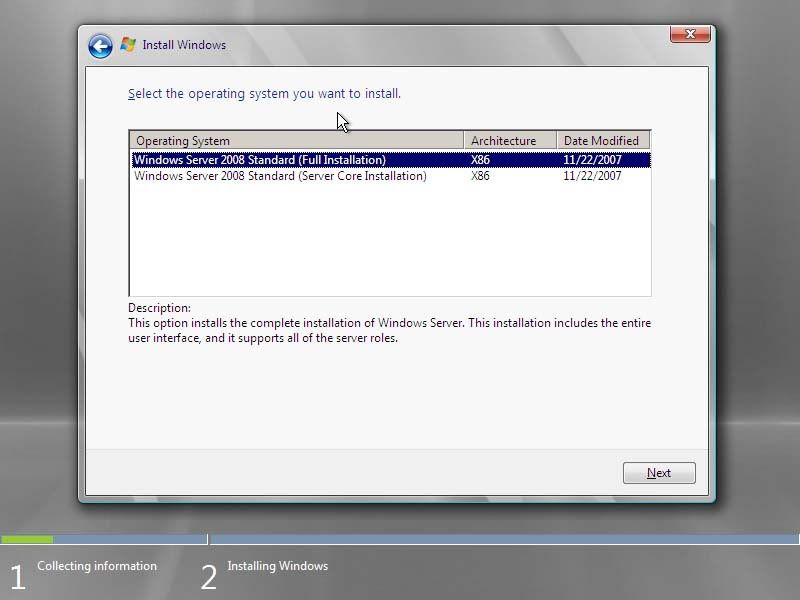 Of course, accept the EULA.  It may be help to actually read the EULA in order to understand what you are agreeing.
   There are provisions to upgrade existing WS2003 installations to WS2008.  The hard disk I am using is empty, so the upgrade option is not available.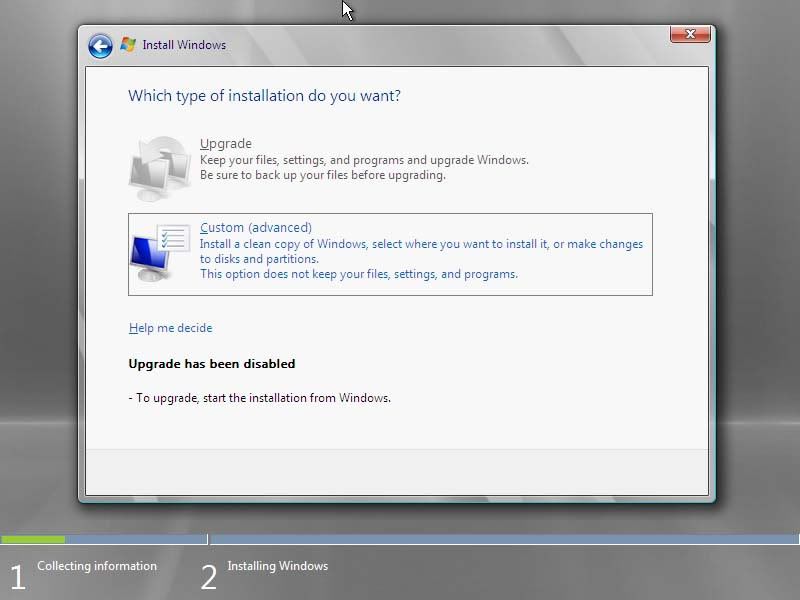 Setup will use all disks that are found on the computer.  If the hard disks are not found an option to install device drivers is made available.  Good-bye F6!  RAID arrays are created before the Windows install process, and recognized as a single volume.  The default is to use the entire amount of space on the first hard drive found.  That is the option I will use here.  The NTFS file system is the only option available to install WS2008 upon. 
   After all of the partitioning and formatting is decided, the actual installation begins.  The complete time is rather quick due to the fewer steps and choices made available to the installing user(s).  My example, being run in Parallels, took twenty minutes from start to finish.
   Notice the install process made no mention of the administrator account setup and configuration.  Administrator is handled next and started with resetting the password.
   Type in the new admin password...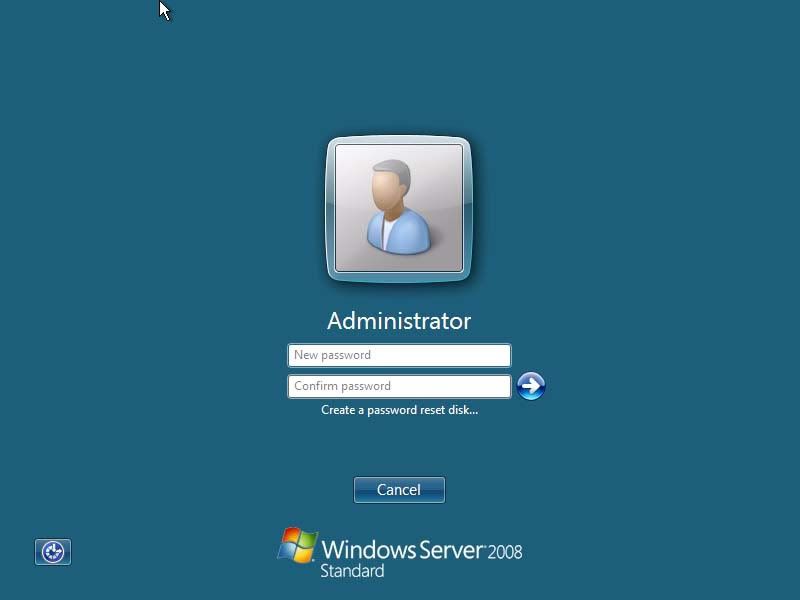 Once that is all done, click OK and continue on to the desktop.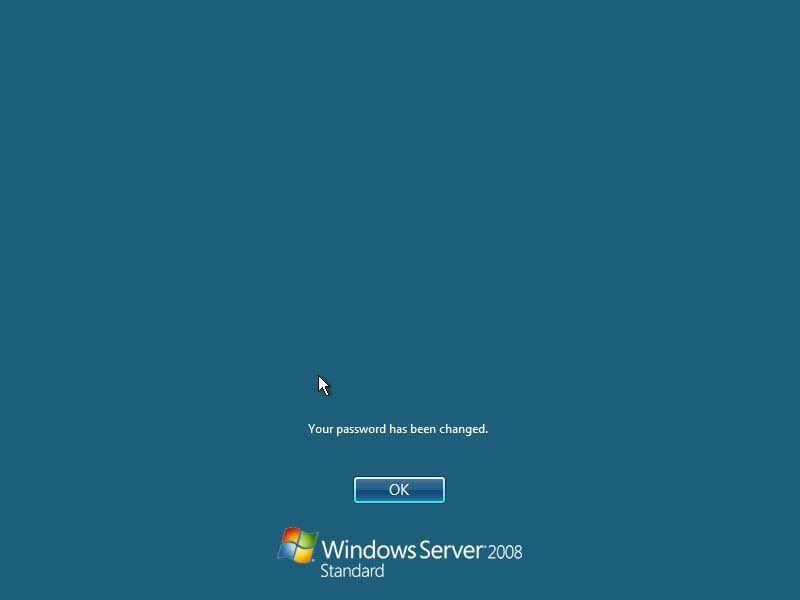 The ubiquitous 'Ctrl+Alt+Delete' to log in is still with us.  For those who may be using WS2008 in a Parallels virtual machine, 'fn+control+option+delete' will provide the same result from the Mac keyboard in Parallels.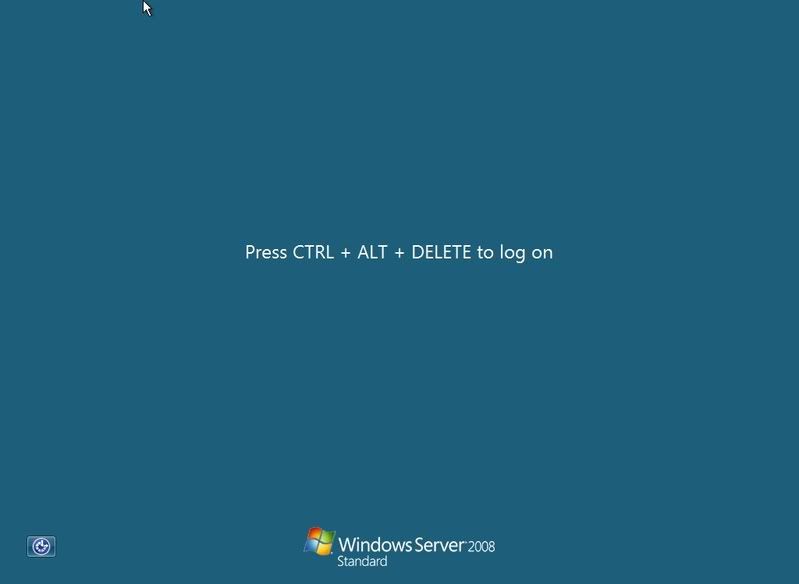 Voila!  The WS2008 desktop is displayed, akin to Windows Vista with all of the eye-candy turned off .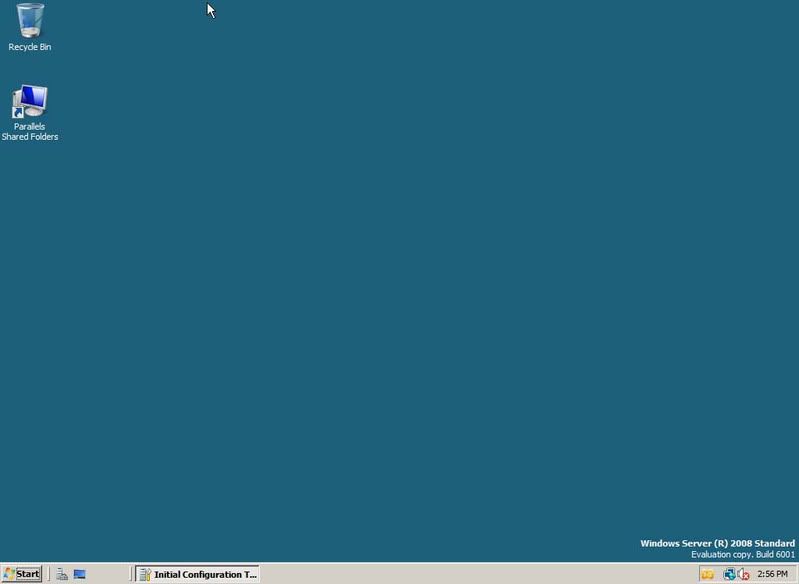 The WS2008 replacement for the 'Manage Your Server' window from WS2003 is now called the 'Initial Configuration Tasks' window.  Unlike the WS2003 version, this version we do have to address and work through before we can start using our new WS2008 server.  We must configure the time zone, IP information, and hostname/workgroup amongst other tasks.  The page is brilliant, just click on the hyper-link next to the desired task and the correct configuration utility will appear.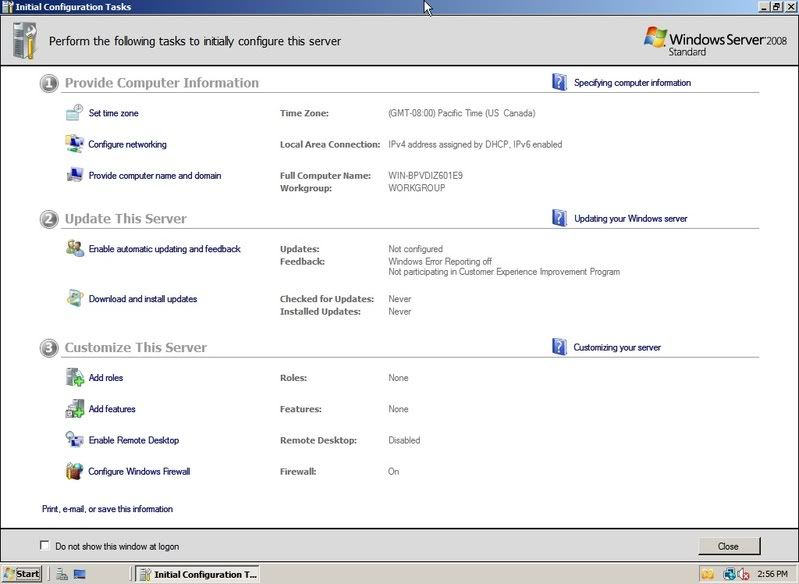 Configuring the proper time zone - Time is at the heart of all server operations on a modern Windows network.  The correct date and time is used as the basis for all timed network operations.  Configure the proper time and zone.
   Server name and workgroup/domain name - Setup did not ask for any server name or workgroup/domain name information, thus it MUST be configured now.  If the server will join an existing Active Directory domain, point the DNS configuration towards a DNS server/DC responsible for the target domain.  All servers should have a static IP address, however my configuration was left with a DHCP-provided IP address.  The example is a virtual machine running in a virtualization program called 'Parallels' and as such is meant for test/evaluation and not for production use.  A reboot will be required following any modification to the server name and domain membership.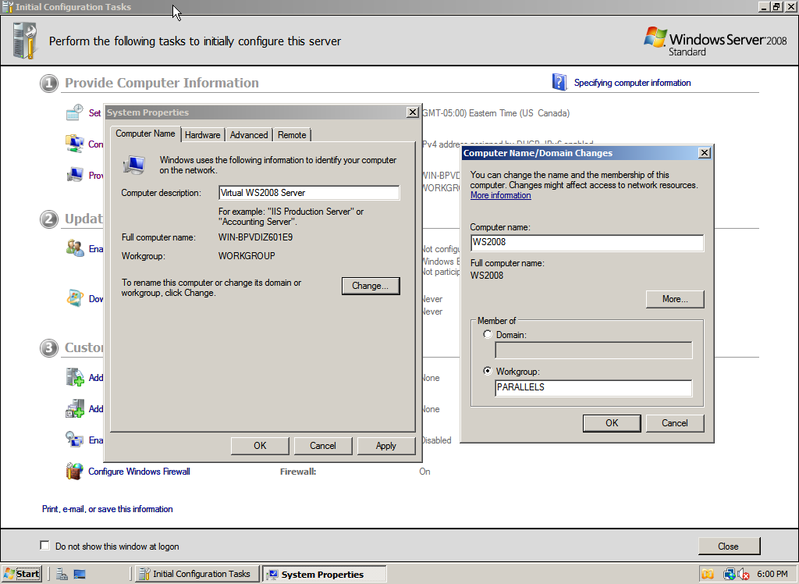 Windows Update - Quite the staple in any Windows administrator's life is 'Patch tuesday' and Windows update.  The default for WS2008 is to have updates automatically downloaded and installed on a regular basis.  That makes me a bit nervous.  I prefer to test and manually deploy updates to servers, so I will configure updates to be downloaded automatically, but NOT installed automatically.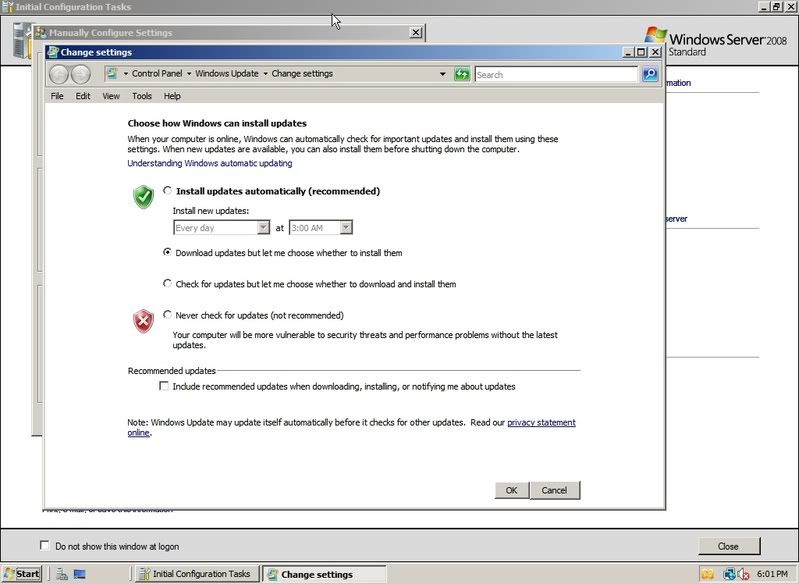 Error Reporting - Windows Server 2003 has a feature that allows error information to be sent to Microsoft for diagnostic and troubleshooting purposes, and was enabled by default.  WS2008 continues this practice, and I decide to keep it enabled.  The information Microsoft collects is used to build analysis patterns concerning common errors and setup parameters.  Microsoft's finding may help me one day...
   Updates - Let's wrap-up by checking for any lingering updates that may be out there.  At the time of this writing, there are no updates for this release of WS2008.
   Reboot - Let's reboot the server to apply any changes we have affected.  WS2008 also has a 'Shutdown Event Tracker' to categorize and provide context for the server's reboot.  The data here is collected in the server's security log.  I select the proper category, and provide an entered reason for the reboot along with my name, date and time.  Servers are not like workstation and cannot be rebooted when necessary.  Often, server updates along with reboots are scheduled weeks in advance and in notice to all users.
That's it!  We have a fresh new server install to bend and control at our whim.  Enjoy!!!